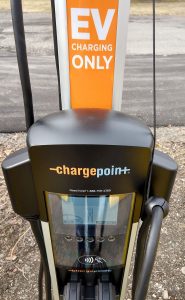 The Germantown electric vehicle charging station was partially supported by National Grid, and they have been working hard ever since then to keep us informed about EVs. National Grid has two new webinars to answer your EV-related questions. Not only that, but National Grid is offering a $350 gift card for anyone who purchases or leases an EV before 12/31/20. Read below for more information.
Webinars!
5 Ways You'll Save on Maintenance 
When: Monday, November 9 from 12pm – 1pm
Description: When you switch to driving on electricity, you can say goodbye to oil changes, mufflers, transmissions, and all the other parts in gasoline-powered cars that require regular maintenance and give you grief with expensive repairs. Electric vehicles (EVs) are much simpler machines, which translates to lower maintenance costs and better reliability than gas-powered cars.
Register: drivegreen.nationalgridus.com/learn/events
Buying a Pre-Owned Electric Car in Upstate New York
When: Tuesday, December 8 from 12pm – 1pm
Description: Join us for this free webinar presented by Drive Green with National Grid to learn why pre-owned electric cars are a great value, what kind of cars are available, and how to find the right car for you.
Register: drivegreen.nationalgridus.com/learn/events
If you're not able to attend any of these webinars, you can still register to receive a recording of the event. You can view last month's Charged Up Webinar here.
Promotion!
National Grid wants to help you plug into exclusive year-end savings on EVs with a $350 Visa gift card! This offer is available when you buy or lease a new EV by 12/31/20.  You can spend this gift card on a home charger, EV miles and more! For more information, visit ngrid.com/unyevpromo  
We hope you'll find this resource helpful! If you have any questions, please reach out to Green Energy Consumers at drivegreenUNY@greenenergyconsumers.org.
And most folks in Germantown already know where our EV charger is located, in the town lot across from the post office.